Cross Country Captain
I started running in my mid 20s, after failing to make the grade as a Sunday morning footballer. I could run up and down the pitch all day, but my ball control skills were never good and so I was usually a substitute. While the game was on, I began to go for runs round the pitch and, like Forrest Gump, 'I just kept on runnin'.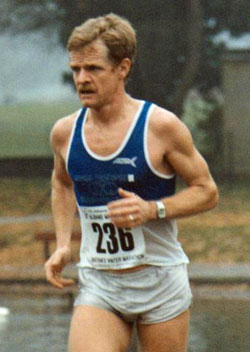 During the 1980s running boom, a small group of us at work (Hogg Insurance Brokers) began lunchtime running, and we all improved and formed a team to enter local road races. This was the origin of Roadhoggs. We trained hard, with hill reps and speedwork sessions as well as steady runs every week. In a lunch hour we covered 8 or so miles. On Sundays it was the long run, an hour or two, or a race. The Leicestershire Road League was up and running by then and the quality was high, amongst the best in the country. I set my pbs in my 30s before the inevitable slowdown kicked in, barely making the top 50 in local races back then with times that would make top 20s now.
My marathon career started at the first Leicester Marathon in 1979, when less than 100 finished! I ran 20 marathons up to 1995, including one at Rotterdam, 6 Londons, 3 Leicesters, a short course at Wolverhampton and a dnf at St Albans. My 2:46 at London in 1987 resulted in 1,009th place … if I had known I was that close to the top 1,000 I would have passed more runners as I was flying at the end!
For several years I coached cross-country runners from 3 local primary schools, and hared the Leicestershire primary schools' league races. These were several short runs during a Saturday morning, but a terrific speed session as you could not slow down with some speedy 11-year-olds racing each other and being encouraged by their parents to 'catch the hare'!
As my road times slowed, I moved onto cross-country where the distances and times did not matter. I must say that for me this was the most enjoyable running and gave me several more years of racing around the fields and tracks. Roadhoggs joined the local cross-country league and our team has steadily built over the years and is now a very friendly group. Though my own racing career ended a few years ago, I've been the club's Cross-country Captain for many years now and enjoy organising our friendly team of guys and girls with a taste for mud and water!